This is very similar to "See Which Lobbies Your Friends Are Playing In" located here --> https://forums.tf2ce...g-in/?hl=friend
Hello everyone, I'd like to suggest a very simple change while the "active lobbies" module is developed or queued amongst other things that need your attention more:
Adding a small friend icon to a lobby you have a friend in. What do I mean?
Example lobby you have a friend in, and that has mumble enforced:
Notice the small friend icon in the corner right next to mumble.
I may not be a html/css guru, but I think this should be fairly simple to implement, and will greatly help joining your friends without asking for links. This can be, of course, later replaced with a "Your friends are playing:" window beneath "Online players" that will show your friends in a key-value format with the lobbies they're in, much like the example Tereza showed us there: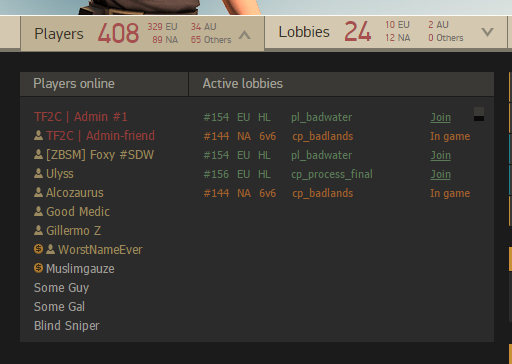 Looking forward to see this (icon on the lobby with a friend playing) implemented, it'll make the experience smoother, should be fairly easy to add, and will allow to delay the heavier "lobbies with friends" list function a bit more without delaying "the good stuff" it would offer.
Cheers